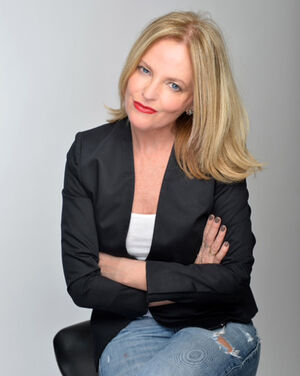 Clare Grogan (born 17 March 1962) is a Scottish singer and actress who appeared as feminist singer Niamh Connolly in the Father Ted episode "Rock-a-Hula Ted"
She was the lead singer for Altered Images in the 1980s. Gary Kemp wrote Spandau Ballet's song "True" (1983) about her. Her breakthrough as an actress came in the 1981 film Gregory's Girl, but she is perhaps better known among comedy fans as the actress who originally played Dave Lister's great unrequited love Kristine Kochanski in the British sitcom Red Dwarf. She also portrayed Ros Thorne on EastEnders from 1997 - 1998, and has continued to appear in films and television in various roles.
She remains active musically, including tours with other famous 1980s acts and on charity television events. She published the children's novel Tallulah and the Teenstars in 2008, and appears as a radio presenter on BBC 6.
Trivia
Grogan herself attended convent school in her native Glasgow.