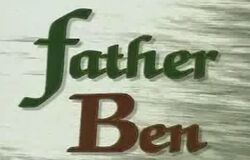 "This is really top notch stuff."

―Father Ted Crilly on Father Ben
Father Ben is a situation comedy programme which follows the lives of Roman Catholic priests, Father Ben and Father Brendan. It ran during 1996, but it is possible to have been airing before that year. Father Ted Crilly and Father Dougal McGuire follow the sitcom, often relating to both of the characters.
"That Brendan's an eejit."

―Father Dougal whenever he sees Father Brendan wearing a pair of shorts on his head
Behind the scenes
Father Ben is a parody of Father Ted itself, as both Ted and Dougal make a strong resemblence to Ben and Brendan, and the title sequence in both programmes are nearly identical. It is likely that there are more characters in the show, possibly an equiviliant of Father Jack and Mrs. Doyle.
Father Ben is played by the writer of Father Ted, Arthur Mathews, and Father Brendan is played by James Rymer.
Appearance
Ad blocker interference detected!
Wikia is a free-to-use site that makes money from advertising. We have a modified experience for viewers using ad blockers

Wikia is not accessible if you've made further modifications. Remove the custom ad blocker rule(s) and the page will load as expected.