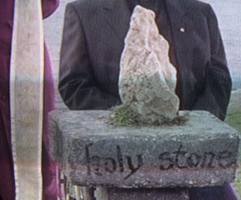 The Holy Stone of Clonrichert is a relic located on Craggy Island. According to Ted the stone was originally located in Fermanagh but since it was not doing great business up there it was moved. Dougal also owns a comb inscribed with "I saw the Holy Stone of Clonrichert", which he purchased at the site.
A site of importance, it receives its upgrade to a Class 2 relic in the Series 2 episode "Tentacles of Doom" but ends up shoved up Bishop Facks' backside by Father Jack when the former keeps poking him on the shoulder.
Appearances
Ad blocker interference detected!
Wikia is a free-to-use site that makes money from advertising. We have a modified experience for viewers using ad blockers

Wikia is not accessible if you've made further modifications. Remove the custom ad blocker rule(s) and the page will load as expected.